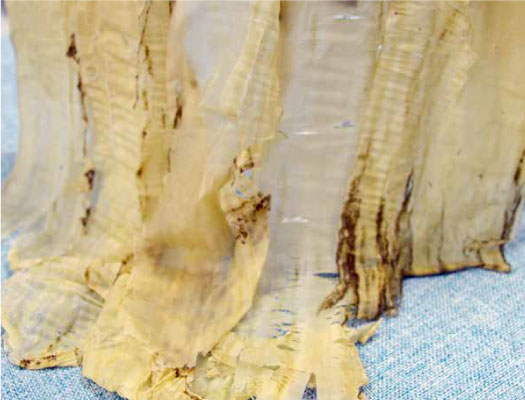 Making the best of Hokkaido's blessings by technique of craftsmen
The "Oboro kombu" of Naya Shoten is made using the finest thick kombu from Hokkaido and skilled craftsmen scrape it with their whole heart.
We're proud of this product, which is as soft as white cotton and softly melts on your tongue.
Craftsman's techniques and kitchen knives
Oboro kombu, which the craftsmen hand-cuts one-by-one on the surface, requires a knife that has both sharpness and suppleness to stick to the kombu.
Naya Shoten's skilled kombu craftsmen handle these kitchen knives as though they were their own fingers, and scrape out the ultra-thin oboro kombu that feels good on the tongue.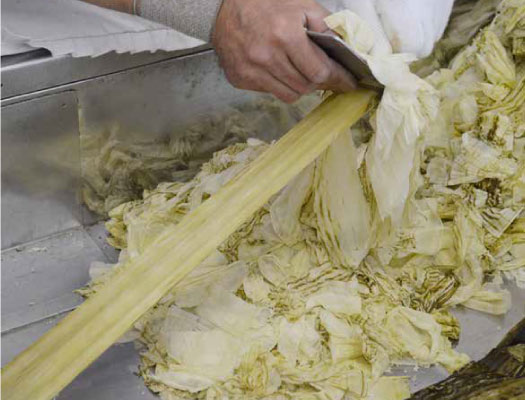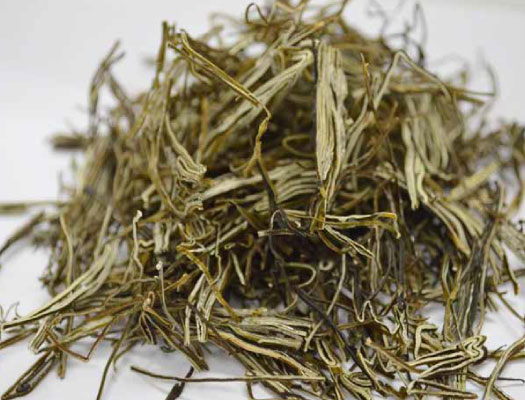 Cut whole umami "Kizami kombu"
Kizami kombu is made by shredding whole kelp.
By changing the composition of raw kombu, we will provide kombu suitable for various uses, including simmered foods, salads, or dashi.
*No sugar or chemical seasonings are used.
Like noodles when rehydrated with water
You can enjoy a crispy texture by rehydrating with water..
When cooked, it becomes a soft ingredient..
Depending on the arrangement, you can use it for various dishes such as simmered dishes, salads, or dashi.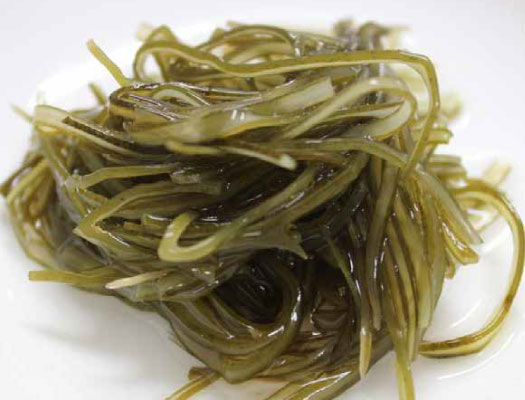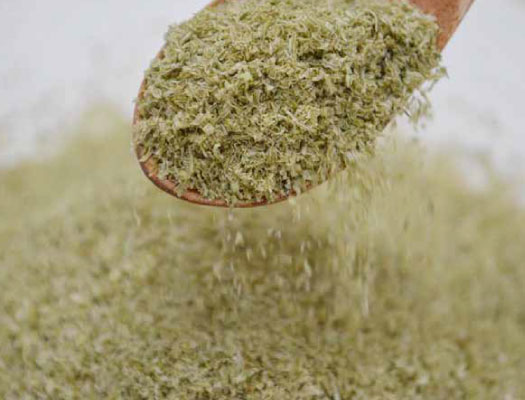 Snow-like powder kombu
"Kona tororo," or powder kombu, is reminiscent of Hokkaido snow.
After the kombu is scraped thinly, it is made into flakes.
You can enjoy the original flavor and umami of the kombu.
Enjoy over salad, pasta, and soup.
*No sugar or chemical seasoning is used.
Umami flavored jelly when water is added
By adding water to powder kombu, you can easily make an umami jelly.
Fucoidan and alginic acid, components of kombu, react with water to form a jelly. Mix with sauce and dressing to make a jelly with umami flavor.
*Chemical seasoning and gelatin are not used.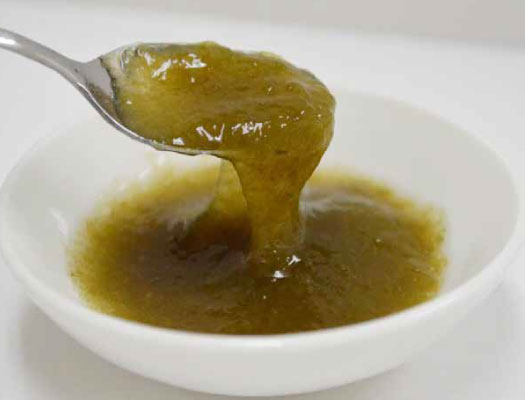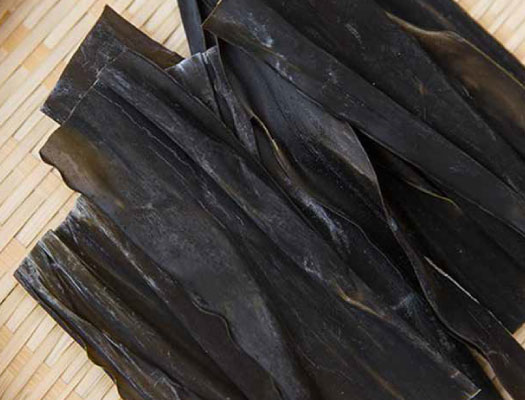 "Make the most of ingredients"
Dashi made with kombu is elegant and mild, so it is ideal for dishes that make the most of the taste and aroma of the ingredients.
A flavor with depth for cooking
Dashi kombu can be used for a wide range of soups, udon noodles, or stews, etc., because it has a deep and mellow flavor filled with sea minerals and umami.
Dashi kombu, which is packed with sea minerals and umami, adds a deep flavor to the dishes and enhances the flavor of other ingredients.
Please cut it to the size that's right for your intended use.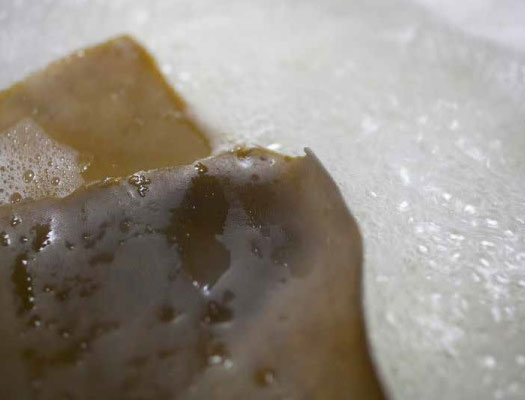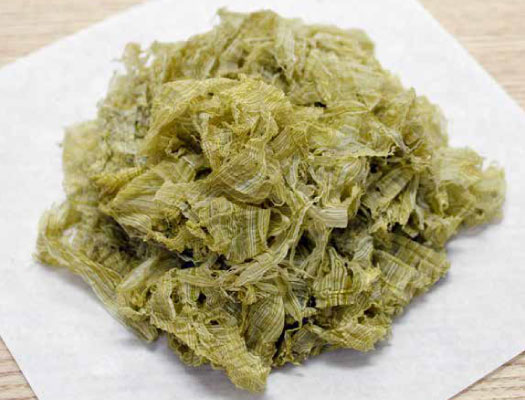 Cotton-like Tororo kombu
Tororo kombu is a gem in which you can taste whole kombu.
Naya Shoten's Tororo kombu uses only carefully selected natural kombu grown in rough seas.
No extra seasonings such as chemical seasonings and sugar are added, so you can enjoy the original taste of kombu.
Scraped to 0.02 mm with a plane
A grater scraping machine that has been in use since 1970.
The steel blade for scraping is from Sakai City, Osaka, which boasts a history of 600 years.
Without these two, we cannot make fluffy Tororo kombu.
Fluffy Tororo kombu is created with a production method that is the same as in old days.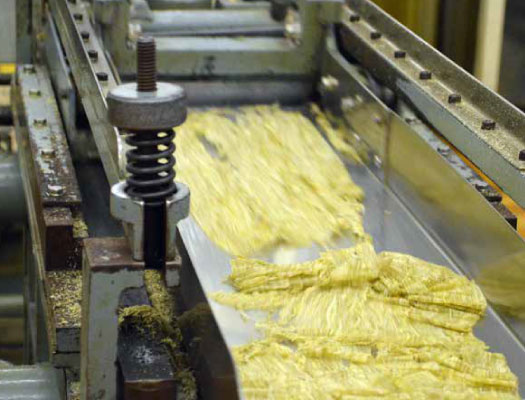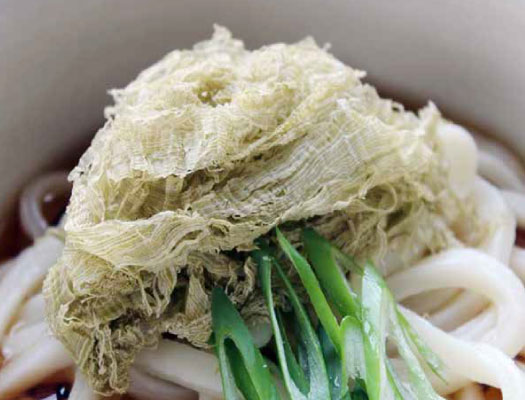 As a soup ingredient, the flavor of kombu enhances dishes.
Naya Shoten's Tororo kombu uses only natural kombu cultivated in the great nature of Hokkaido, and no extra seasoning is added.
Gagome kombu, which is rich in the stickiness component (fucoidan), is used as the main ingredient, and Tororo kombu is finished off with a thick texture.